Moerland Recipient of Two Prestigious Fellowship Awards
March 28, 2023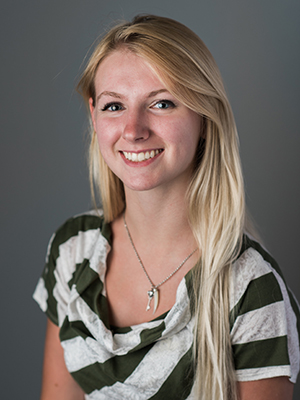 EITS graduate student, Jessica Moerland, was recently selected for two prestigious fellowship awards for her research on the pharmacological modulation of the lung tumor microenvironment. Moerland was selected for the National Cancer Institute (NCI) Ruth L. Kirschstein NRSA for Individual Predoctoral Fellows (F31) Award which supports promising doctoral candidates performing dissertation research and training for a Ph.D. degree in a scientific health-related field relevant to the mission of the NCI. Moerland is the third PhD student at MSU to receive funding through the NCI for an F31 training grant.
Moerland was also selected as one of four Aitch Foundation Fellows for 2022-2023. The Aitch Foundation is a non-profit organization that works to support MSU cancer researchers studying early cancer detection and diagnostics, genetic and cellular changes contributing to tumor development, and the identification of new cancer targets or therapeutic agents. The foundation is led by Lauren Aitch, an MSU alumna, and is supported by the Izzo Legacy Family Fund.
Moerland's research focuses on pharmacological modulation of the lung tumor microenvironment to promote anti-tumor immunity and reduce tumor burden. Lung cancer is the deadliest malignancy worldwide. The microenvironment of lung tumors contains a considerable number of immune cells, the activity of which may be modified pharmacologically to promote an anti-tumor immune response. The immune cells which mount these responses rely on cytoprotective pathways in order to survive in the inflammatory environments they create and to maintain an anti-tumor phenotype. Without the ability to maintain oxidative homeostasis, immune cells lose their anti-tumor capabilities and may even promote tumor progression. Moerland's studies have shown that pharmacological activation of the cytoprotective Nrf2 pathway with the triterpenoid CDDO-Me promotes an anti-tumor phenotype in macrophages (the most common immune cell type within the lung tumor microenvironment) and reduces lung tumor burden in preclinical mouse models. She hypothesizes that through activation of Nrf2, CDDO-Me promotes oxidative homeostasis within these immune cells that enables them to mount a proper anti-tumor inflammatory response, thereby decreasing tumor burden.  
Moerland's research for both awards will focus on this path. Her first-authored paper in the journal Antioxidants, "The Triterpenoid CDDO-Methyl Ester Redirects Macrophage Polarization and Reduces Lung Tumor Burden in a Nrf2-Dependent Manner," will be the stepping stone for her continued research. Moerland is mentored by IIT-affiliated faculty member, Dr. Karen Liby.