Honglei Chen Joins IIT Affiliated Faculty
June 2, 2022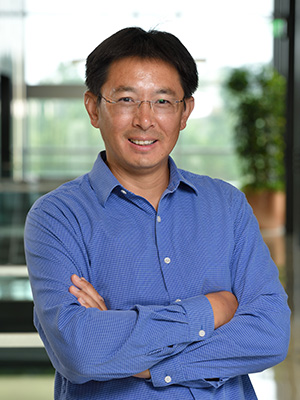 The IIT is pleased to welcome Dr. Honglei Chen as an affiliated faculty member. Dr. Chen is a MSU Foundation Professor in the Department of Epidemiology and Biostatistics at MSU. 
In the past twenty years, Chen has been studying the etiology and natural history of Parkinson's disease, dementia, and related conditions, with the ultimate goal of disease prevention and healthy aging. In pursuit of this goal, Dr. Chen has successfully developed Parkinson's disease research components in five large prospective cohorts. This approach cost-efficiently capitalizes on decades of extensive environmental / risk factor data collection in cohorts that would be otherwise difficult to collect. As his research deepened, Dr. Chen realized that we cannot fully understand Parkinson's etiology without studying the poorly understood decades-long prodromal/preclinical stage of disease development and identifying environmental factors that contribute to this process. Around ten years ago, he began to assess key prodromal symptoms of neurodegeneration (e.g., poor olfaction/hyposmia, dream enacting behaviors, daytime sleepiness, constipation) in three of the above cohorts, aiming to gain insights into the "black-box" of prodromal neurodegeneration and identify its triggers and modifiers. More recently, he has developed a novel line of interest to study poor olfaction in older adults as a marker of poor health and accelerated aging.   
Dr. Chen received his M.D. in Public Health from Tianjin Medical University in 1993. He went on to earn his M.Sc. in Nutrional Epidemiology from the Chinese Academy of Preventive Medicine in 1996. In 2001, he received his Ph.D. in Nutritional Epidemiology from Tufts University in Boston, MA. He went on to become a Research Associate and Instructor at Harvard School of Public Health in Nutrional and Neuroepidemiology in 2005. 
Major research projects in the Chen lab include:  
Airborne pollutants as triggers of Parkinson's Disease via the olfactory system-

 

This is a multi-PI project supported by the US Department of Defense (9/2017-8/2022). In this project, Dr. Chen and his team have objectively assessed the sense of smell of ~3,400 women, ages 50-79, from the NIEHS Sister Study. The primary goal of this project is to assess the roles of air pollutants in olfactory impairment and their relevance to Parkinson's disease.


Pesticides, olfaction, and neurodegeneration among US farmers-

 

In this R01 project (2/2019 – 1/2024), we aim to investigate the roles of pesticides in olfaction impairment and their relevance to prodromal neurodegeneration. We will first objectively test the sense of smell of ~2,400 farmers from the Agricultural Health Study and then conduct in-home clinical assessments for ~450 farmers to assess cognitive and motor symptoms.


Poor olfaction in older adults -

 

Chen is also interested in identifying risk factors and potential health implications of poor olfaction in older adults. He conducts this research in two well-established population-based cohorts – the Atherosclerosis Risk In Communities Study and the Health ABC study.
With these valuable and complementary resources, Dr. Chen aims to decipher the codes of poorly understood poor olfaction, prodromal neurodegeneration, and beyond. The IIT is thrilled to add his expertise to our ranks of talented affiliated faculty members.