Luyendyk Receives 2020 SOT Achievement Award
February 20, 2020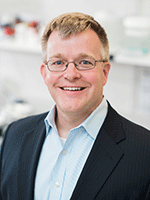 For his paradigm-shifting research on the role of the coagulation cascade in homeostasis of the liver and other organs, IIT-affiliated faculty member, Dr. James Luyendyk, has received the 2020 Society of Toxicology Achievement Award.

After earning his PhD in Pharmacology and Toxicology with a dual major in Environmental Toxicology from the IIT's EITS graduate training program in 2004, Dr. Luyendyk conducted his postdoctoral training at the Scripps Research Institute in La Jolla, California, studying immunology and hemostasis. He then began his career in academia, first at the University of Kansas Medical Center as an Assistant Professor and thereafter joining the Michigan State University faculty as an Associate Professor. Dr. Luyendyk currently serves as a Professor in the Department of Pathobiology and Diagnostic Investigation and as a member of the Institute for Integrative Toxicology at Michigan State University.

Dr. Luyendyk is a leader in the fields of toxicology, hepatology, and hematology, evidenced not only by the more than 100 peer-reviewed publications and multiple book chapters that compose his publication repertoire, but also by his numerous regional, national, and international speaking engagements. His research, involving both drug and environmental exposures, explores the mechanisms by which blood-clotting factors contribute to liver disease, which has challenged assumptions in multiple fields, including toxicology, and has inverted perceptions on the role coagulation factors play in the liver's response to toxicants.

A member since 2002, Dr. Luyendyk has been an active participant in SOT since the first Annual Meeting he attended. In addition to receiving the 2016 Women in Toxicology Mentoring Award, Dr. Luyendyk also was the Founding Chair of the Postdoctoral Assembly and has served as a leader and member of numerous SOT Regional Chapters, Specialty Sections, and Committees. Notably, Dr. Luyendyk was the inaugural Chair of the Graduate Education Subcommittee. Dr. Luyendyk is the 2019–2020 Chair of the Committee on Diversity Initiatives and the 2019–2020 Senior Councilor for the Mechanisms Specialty Section. He also has been a member of the Toxicological Sciences Editorial Board since 2011, in addition to and in conjunction with service on Editorial Boards of other high-impact journals.

Importantly, Dr. Luyendyk's involvement in toxicology extends also to his trainees. He has served as a dedicated mentor not only to graduate and postdoctoral trainees, but also to undergraduate and high school students. His trainees are past recipients of the Mechanisms SS Gabriel L. Plaa Education and Carl C. Smith Graduate Student Awards, Pfizer SOT Undergraduate Student Travel Award, and Undergraduate Diversity Program Student Travel Award, among others. This underscores his influence on furthering the future of toxicology.