Harkema Receives Prestigious Thomas T. Mercer Joint Prize Award
July 11, 2019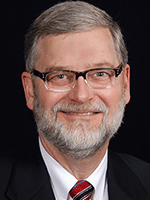 IIT-affiliated faculty member, Dr. Jack Harkema, is the recipient of the 2019 Thomas T. Mercer Joint Prize Award from the American Association of Aerosol Research (AAAR) and the International Society for Aerosols in Medicine (ISAM). The award recognizes excellence in the areas of pharmaceutical aerosols and inhalable materials. The award honors the legacy of Thomas T. Mercer, an outstanding researcher and author whose work encompassed aerosol physics and chemistry as well as inhalation toxicology, industrial hygiene, and health physics.
The selection of Dr. Harkema as the 2019 recipient was announced at the international congress of ISAM in Montreux, Switzerland recently and will be announced again at the annual meeting of the AAAR in Portland, Oregon later this year.
In addition to being an IIT-affiliated faculty member, Dr. Harkema is a University Distinguished Professor and the Albert C. and Lois E. Dehn Endowed Chair in Veterinary Medicine in the Department of Pathobiology and Diagnostic Investigation at Michigan State University. He is also the Director of the Laboratory for Environment and Toxicologic Pathology and the Mobile Air Research Laboratories (AirCARE 1 and 2) at MSU. 
Congratulations to Dr. Harkema on this prestigious honor!