Gina Leinninger Receives Prestigious New Investigator Award
April 23, 2019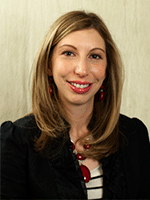 IIT-affiliated faculty member, Dr. Gina Leinninger, is the 2019-20 recipient of the American Physiology Society's (APS), Central Nervous System Section New Investigator Award.
The society's New Investigator Award recognizes outstanding scientists in the early stages of their career who have made significant contributions and show great promise in their field of study. 
"No investigator is an island," said Leinninger, who joined the department of physiology in the College of Natural Science in 2012. "It takes a team to do great science, and this award recognizes my team of talented students and technicians whose hard work, enthusiasm and insight are revealing new ways that the brain works to regulate behavior and body weight."
Leinninger recently attended the 2019 Experimental Biology meeting in Orlando, Fla., April 6 to 9, where she presented her latest investigations of how neurons located in the lateral hypothalamic area, or LHA, of the brain coordinate eating, drinking, sleep and movement behaviors that affect weight.
Read more of this story at: https://msutoday.msu.edu/news/2019/msu-neuroscientist-gina-leinninger-receives-prestigious-new-investigator-award/