EITS Research Evening Celebrates Student Research
December 9, 2019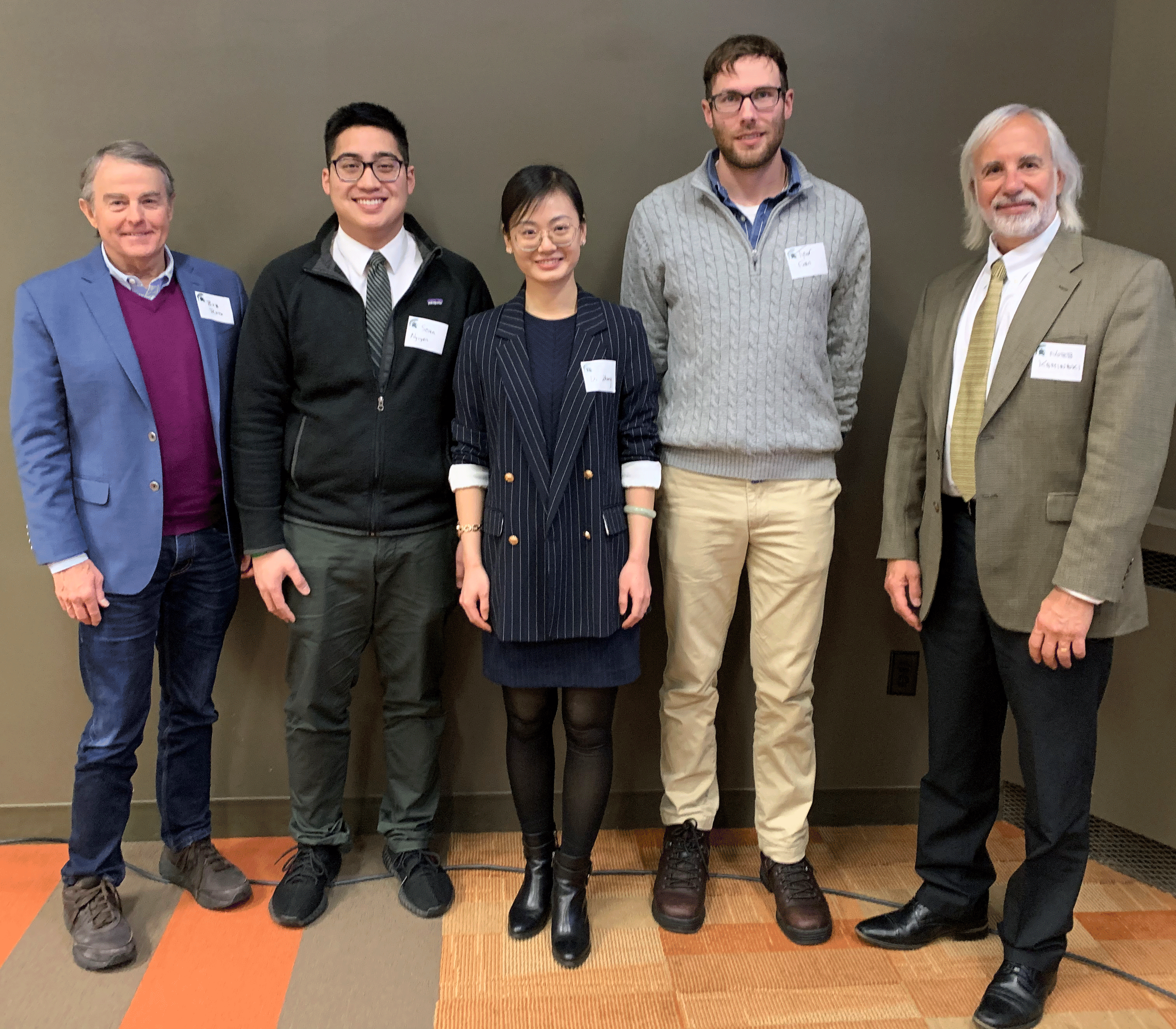 The Institute for Integrative Toxicology's Annual Research Evening showcased trainees in the Environmental and Integrative Toxicological Sciences Graduate Training program and their accomplishments. This year's event took place on Wednesday, December 4, 2019 in the Lincoln Room at the MSU Kellogg Center. The event included dinner, student posters and platform presentations. Pictured at left: Dr. Robert Roth, Sean Nguyen, Di Zhang, Tyler Firkus and Dr. Norbert Kaminski. 
Three EITS graduate students presented the platform presentations:

Tyler Firkus, training in the lab of Dr. Cheryl Murphy, spoke on, "The Sublethal Effects of Sea Lamprey Parasitism on Lake Trout Reproduction and Growth." Firkus is a doctoral student in the Department of Fisheries and Wildlife and has focused his graduate research on assessing the influence of stressors on fish reproductive physiology, immune function, and growth. He is also interested in assessing how perturbations at the molecular, organ, and individual level have consequences for populations as well as the interface between chemical and non-chemical stressors.

Sean Nguyen, training in the lab of Dr. Margaret Petroff, spoke on, "Placental Extracellular Vesicles in Murine Pregnancy." Nguyen is a doctoral student in the Cell and Molecular Biology Program and has focused his graduate research on placental extracellular vesicles (pEVs) and their function during pregnancy. He is specifically interested in the cellular targets of pEVs in vivo as well as understanding the mechanisms by which they localize to maternal tissues in pregnancy.
Di Zhang, training in the lab of Dr. Karen Liby, spoke on, "Identification of an Unfavorable Immune Signature in Advanced Lung Tumors from Nrf2-Deficient Mice." Zhang is a doctoral student in the Department of Pharmacology and Toxicology and has focused her graduate research on investigating the role of the Nrf2 pathway in cancer. Inhibition of the Nrf2-Keap1 pathway has become an attractive target for lung cancer treatment, since mutations in the NFE2L2 gene (encodes Nrf2), which are associated with chemoresistance and poor survival, have been found in lung cancer patients. However, there are no specific and potent Nrf2 inhibitors currently available. Zhang has identified a novel Nrf2 pathway inhibitor through a high throughput drug screen. She is currently working on further validating this novel compound and investigating how it inhibits the Nrf2 pathway.

To those who attended, thank you for joining us for this special evening of celebration, camaraderie, and learning!