Karen Liby Selected for Mi-Kickstart and Mi-TRAC Awards
November 5, 2019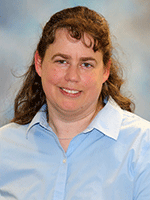 IIT-affiliated faculty member, Karen Liby, was recently selected for a Mi-Kickstart award from the University of Michigan MTRAC for LIfe Sciences Innovation Hub for her project, "Novel Nrf2 Inhibitors." She also received a Mi-TRAC award in 2019 for her project, "Novel Rexinoids for Oncology." Liby is an associate professor in the Department of Pharmacology and Toxicology. 
Mi-TRAC and Mi-Kickstart awards are part of the University of Michigan MTRAC for Life Sciences Innovation Hub, a statewide program that supports translational research projects in life sciences with high commercial potential. Mi-Kickstart early-stage funding awards are given quarterly and offer funding in the $25k-$50k range. Mi-TRAC mid-stage funding awards are given once a year in January and offer funding in the $100k-$250k range. 
Liby will work with Dr. Aaron Odom on the Mi-Kickstart award, "Novel Nrf2 Inhibitors."
Abstract: Rexinoids, selective ligands for retinoid X receptors, regulate important pathways relevant in cancer, making them promising targets for drug development. In clinical trials, the FDA approved rexinoid bexarotene showed efficacy in a subset of lung cancer patients. Newer rexinoids are exceptionally effective for both prevention and treatment in many clinically relevant mouse models, especially in lung and pancreatic tumors driven by Kras mutations or in models of HER2+ breast cancer which share downstream signaling with the Kras pathway. Kras mutations are among the most frequently mutated genes in cancer, are considered "undruggable," and are resistant to standard treatments. To address issues with existing rexinoids, Liby and Odom have synthesized and screened more than 30 novel rexinoids. They have identified a lead series and lead compound as a potential candidate and are working on identifying 2-3 backup compounds. With this funding, they will evaluate the in vivo efficacy, pharmacokinetics, safety, and mechanism of their lead compound. 
Liby will work with Dr. Edmund Ellsworth on the MiTRAC award, "Novel Rexinoids for Oncology." 
Abstract: Effective new drugs are needed for lung cancer, as 5-year survival rates for this disease remain below 20%. More than 225,000 new cases of lung cancer are diagnosed in the U.S. every year. At least 30% of these tumors are driven by mutations in the NFE2L2 or Keap1 genes, which cause constitutive activation of the Nrf2 cytoprotective pathway. No currently available drugs effectively target Nrf2, even though Nrf2 mutations enhance tumor growth and resistance to chemotherapy and thus reduce overall survival. Known Nrf2 inhibitors are plagued by issues of poor potency, lack of specificity or work through undesirable mechanisms. Using a high throughput screen of MSU libraries and compounds, Liby and Ellsworth identified a novel Nrf2 inhibitor. With this funding, they will synthesize additional compounds to improve physical properties. The best derivative will be evaluated in vivo in a relevant lung cancer model, alone and in combination with chemotherapy.
Congratulations to Dr. Liby on these two fantastic awards!