Laura McCabe Named MSU Foundation Professor
October 8, 2019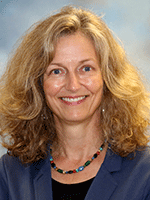 IIT-affiliated faculty member, Laura McCabe, was recently named a MSU Foundation Professor, a designation given to outstanding faculty who demonstrate excellence in research and teaching while enhancing the prominence of the institution. McCabe and three other professors joined the ranks of 36 fellow colleagues who have been named Foundation Professors in MSU history. 
McCabe, professor in the Departments of Physiology and Radiology, has long been engaged in exploring the mechanisms regulating bone cell differentiation and bone formation, and in developing new strategies for the prevention and treatment of osteoporosis.  
McCabe's research has generated an expansive body of work, with critical contributions to more than 90 peer-reviewed articles and numerous book chapters. Many scientific symposia have benefited from her organizational leadership, and she has been a frequent adviser on a wide range of grant review boards and committees both here and abroad.
She holds several patents, with additional patents pending, related to the treatment of osteoporosis. Her internationally recognized research program has been continuously funded for nearly 20 years through external federal agencies, including the National Institutes of Health, National Science Foundation and the U.S. Department of Defense, as well as private foundations.
McCabe was recognized during a special investiture event on September 26, 2019.