James G. Wagner
Respiratory
Pathobiology and Diagnostic Investigation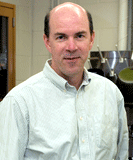 Associate Professor, Department of Pathobiology and Diagnostic Investigation
Food Safety
1129 Farm Ln Room 211
East Lansing MI 48824
517-432-1026
RESEARCH INTERESTS
Dr. Wagner's research efforts are twofold.  The first is directed at understanding the cardiopulmonary health effects of exposure to common air pollutants, include particulate matter, ozone, metals, and endotoxin. His second focus is to discover and describe the therapeutic effects of complementary and alternative medicines on inflammation during allergic airway disease. State-of –art techniques of computer-assisted morphometry, flow cytometry, cardiovascular radiotelemetry, pulmonary function measurement, immunohistochemistry and  RT-PCR, are used to understand the histopathological, biochemical and physiologic responses in experimental animal models.
---
EDUCATIONAL BACKGROUND
Michigan State Univ., 
B.A.
, 1984, Biochemistry   
Michigan State Univ., 
M.B.A.
, 1992, Operations/Logistics Management Michigan State Univ., 
Ph.D.
, 1998, Pharmacology and Toxicology  
---
AFFILIATED WEBSITES
https://cvm.msu.edu/directory/wagner
---
PUBLICATIONS
---