Andrea Amalfitano
Immunotoxicology/Inflammation
Pediatrics and Human Development
Microbiology and Molecular Genetics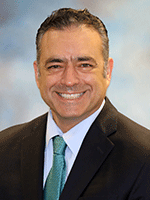 Dean, College of Osteopathic Medicine
Osteopathic Heritage Foundation Endowed Professor of Pediatrics
Department of Microbiology and Molecular Genetics
Fee Hall East Wing
965 Wilson Rd Suite A309
East Lansing MI 48824
517-355-9616
RESEARCH INTERESTS
One important problem with introduction of genetic material into a living organism is triggering of the innate immune response. Our recent work has now begun to identify key components of the multi-faceted innate immune system, thusly guiding our future efforts to subvert these systems to allow for safer gene transfer. Many of these same systems are also involved in toxic responses to other pathogens as well as to other medicinal or environmental agents, aligning our expertise with that of others in the IIT program.
As we develop our vector technologies, and address the toxicities associated with gene transfer, we have also begun to study the use of these vectors in a variety of clinically important situations. The applications are numerous, thus we have created a number of vectors not only for our use, but also available for use by a number of investigators throughout Michigan State University, as well as for other national/international institutions or corporations. These studies are aimed at determining the ability of gene transfer to prevent, minimize, and/or cure diseases affecting the liver, eye, hearing apparatus, muscles, heart, coronary arteries, as well as its ability to improve certain aspects of cancer therapies.
Our research goals have been, and continue to be, focused upon understanding and utilizing the latest techniques molecular biology has to offer in pursuit of these goals. In such a manner, we will try to bring this knowledge into the clinics, to try and help our patients as quickly as possible.
---
EDUCATIONAL BACKGROUND
Michigan State University, B.S., Microbiology, 1984 
Michigan State University, Ph.D., Microbiology, 1989 
Michigan State University, D.O., 1990
---
AFFILIATED WEBSITES
College of Natural Science Faculty Profile
---
PUBLICATIONS
Dr. Amalfitano at MSU Scholars
---